Cortney's Collection Embraces Authentic New York Style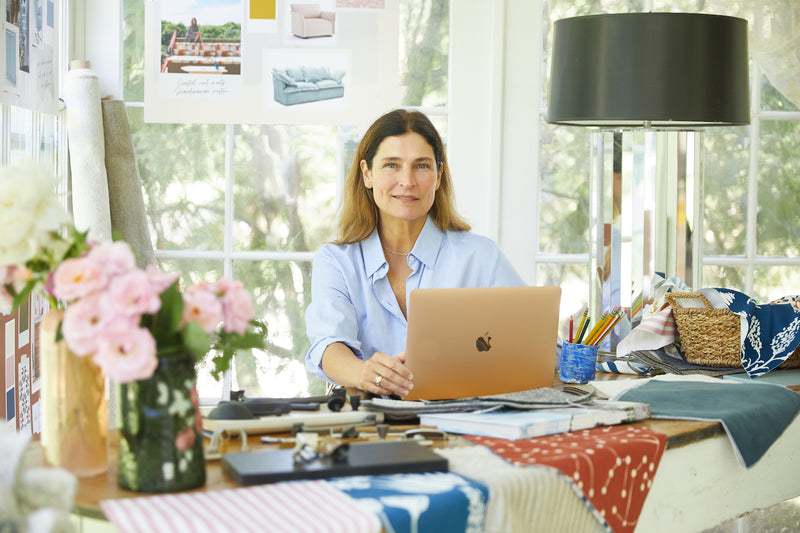 I like to say my interior design flair comes out of my years of experiences walking the streets of New York. I take funky vintage pieces with a real history and introduce them to contemporary art and modern finishes to create one-of-a-kind living spaces. When you're in the city, you'll find antique treasures next to shiny skyscrapers, and that's where a lot of my inspiration comes from.
I first dipped my feet into the design pool with my husband, Robert, when we renovated our first New York City townhouse all those years ago. Since then, our namesake design company, The Novogratz, has tackled boutique hotel renovations, condos, retail spaces, and private homes. Our style incorporates the quirkiness of New York with the unique character and sensibilities of our clients.
After publishing four books and making two reality shows, I've demonstrated my knack for design to households across the country and around the world. And as a working mom raising seven kids, I've gained so many experiences to draw on when designing for other families. I know how to create modern casual looks that let families lounge in style without breaking the bank.
A True New Yorker
Although I grew up in Georgia, I moved to the city at the age of 20 and consider myself a true New Yorker. The inspiration for Cortney's Collection comes from all things New York, from the arts and nightlife to the energy and characters on the street.
The streets of New York inspire me every day, whether I pop over to a friend's house and see how they live and what's missing in their own lives, or it could be at our kid's school, or at a gallery. I'm constantly looking to see what I can pull on for inspiration. The city's vibe inspires a mix of materials and finishes that can complement any space, and bring a bit of style-forward NYC into a family home.
NYC Inspiration
Due out at the end of 2022, these new collections reflect design elements of different areas of the city, including The Village, Uptown and Downtown. I'm a visual person, so the streets, the color, the energy is what leads me in design. While each showcases specific design aspects, they all feature modern casual styling from mid-century to refined.
The pieces offer clients exclusive color palettes and graphic patterns like the sleek stripes and floral patterns available in the Downtown Pearl Round Ottoman and Pillows Set, as well as a mix of upholstery fabrics like the faux-leather of the ​​Uptown Gotham Power Motion Recliner. These chic new pieces of furniture mix and match seamlessly to create a designer room like no other and use real wood veneers, glass, metal and shagreen for sophisticated finishes that are functional for family living.
City Style for Every Home
Think you don't have an interior designer's eye? That's why these versatile collections are here to help. Adding any of these multifunctional pieces of furniture to a neutral living room will add color, depth and effortless sophistication so every family can have a beautiful, comfortable living space.
Overall, it's essential to make sure that everyone in the space feels at home, from aging grandparents to a young child or friends gathering for cocktail hour. No matter the size of space you're working with, using the space well is important, which is why I put extra emphasis on size, style and storage. Every piece of furniture serves multiple purposes while remaining sleek and comfortable.
Family-friendly Furniture on a Budget
Usually when I'm creating for my family, I want it to look really chic and be high-end, but I need to be able to fit it within my budget. After searching for pieces I could afford and show off in my own home, I decided to create my own line to fulfill that need. That's why Cortney's Collection features cohesive pieces at reasonable prices that still bring a touch of luxury to your home.
Keeping Up with Cortney
Moving back to NYC after a short stint in California, Bob and I took on a massive renovation of our own. We purchased an 1826 pink stucco townhouse with an eye toward returning it to its former glory, celebrating artists, musicians and writers. A former home to Rockette Celeste Martin, the 6,700-square-foot house requires a complete rehab. Follow along with us on Instagram to see what's next in our renovation journey.
And be sure to follow Cortney's Collection to learn more about the new pieces coming in 2022.
Sources
The Novogratz — Shop the Novogratz
Refinery29 — How This Interior Designer Juggles Work & 7 Kids
HGTV — Home by the Novogratz
Bookshop.org — Cortney Novogratz
Avenue Magazine —
How Cortney and Robert Novogratz Plan to Restore an Iconic New York Home