5 Ways To Design a Colorful Living Room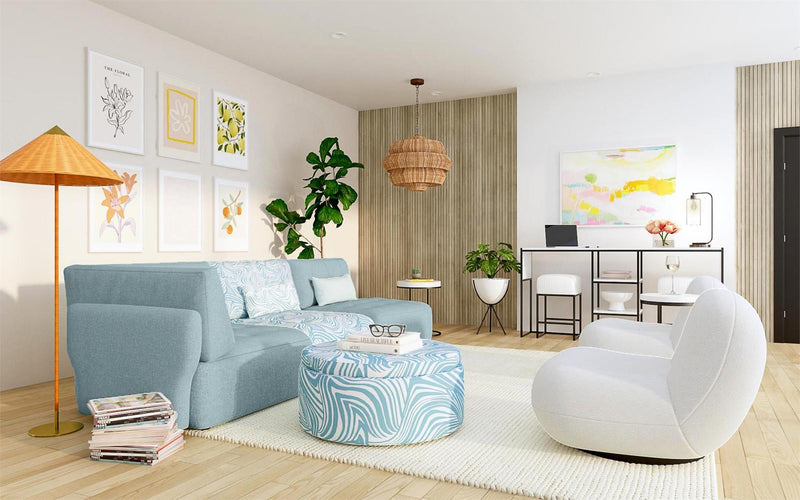 It's amazing what a little color can do to enhance the atmosphere of a living room. Hints of color throughout the space make it visually more interesting and even more welcoming to guests. The best part: Bold, outrageous shades are not required. Furnishings from The Village Collection add ideal amounts of style and color to elevate any space. Here are five ways to create a colorful living room.
1. Add Color to a White Living Room 
White walls in the living room may not offer much on their own as far as style is concerned, but they're a great backdrop for virtually any style or color scheme for the space. You can paint the ceiling or the trim or one signature wall. You can take it slow with the color, and if you like it keep it going, if not you can change it.
No matter how neutral the space is overall, The Village Collection offers the ideal amount of color to suit your inner interior decorator. For instance, The Village Astor Modular Sectional's key pieces are a pleasing powder blue that suits both neutral and brighter decor schemes. For an added splash of excitement, the Astor Modular Sectional Round Storage Ottoman and Armless Chair pieces come in Powder Blue Palm Marble, the perfect pattern to pair with the set.
2. Choose Fun Patterns for Pops of Color
Patterns serve as another way to introduce pops of color to a living room, bringing creative energy to the space. I think it's nice to add color in small ways. So maybe it's on the ottoman that doesn't take up a ton of space. You can keep it simple with your sofa and then add a splash of color in the throw pillows and the ottoman. The Village Bleeker Rectangular Storage Ottoman, for instance, dresses up the room with its playfully patterned fabric and its matching throw pillows to adorn a sofa or a favorite chair.
I find inspiration all over as I walk up and down the streets of New York. People think you can't see greenery or anything of nature, but you can right here in New York City. I remember seeing a leaf right here on the street that had fallen from the trees, and it inspired a lot of our botanical and leaf collections throughout the fabrics. Big bold patterns are great for families.
Inspired by Greenwich Village in New York City, our exclusive Off-White Painted Stripe Pattern offers perfectly subtle color variants to pair with just about any solid color of living room seating. The Multi Blue Painted Stripe version of the same ottoman adds a casual, playful touch to the living room. Add The Freeman Wingback Accent Chair in Multi Blue Painted Stripe for a unique pairing, which serves as a statement piece and a conversation piece anytime guests visit.
3. Incorporate Color with Accent Pieces
A few strategic selections of color dress up a living room, much the way a dash of the right spices makes a dish even more delectable. Artwork with citrus hues of orange and yellow adds the perfect vibrant touch behind a powder blue Astor Modular Sectional. Lamps with natural, earthy shades in golden tans add a casual, familiar touch. The shades need not match in shape or style — use their colors and basic materials for the cohesion that ties together the view.
4. Follow the Rule of Three
Selectively repeating colors in small amounts across the room gives the room a complete, cohesive look. Incorporate "the rule of threes" with color repetition, using the same accent color three times across a space for immense impact. I agree with the home staging firm behind Hope Designs when they say the rule of three makes a living room feel "much more alive and interesting." When I'm bringing in pieces for my clients, we pick a color they like and incorporate that strategically around the room to make sure it feels natural and purposeful.
5. Don't Forget the Plants
Plants add so much to a space, and not just through their color. They also add a sense of the outdoors and a natural beauty that's hard to top. Like I said in Haute Living, "Plants are really important, and I recommend living plants because [they] bring life to the house." Not only that, but plants also make the space smell fresher.
Plants also come in handy for adding bits of color to the living room, whether the space is outfitted entirely with furnishings from The Village Collection or with more of an eclectic array of a favorite piece from The Village mixed in with a few precious mid-century items. Pick plants of similar height or shape to display in different areas within the room. The plants' pots can also be used to add color and style to the living room. For instance, three small plant pots of different shapes, all in cobalt blue, add an interesting touch atop a Perry 3 Drawer Apartment Chest doing double duty as a home office setup.
Create a Colorful Living Room on a Budget
No matter what your personal sense of style or the structure of your living room may happen to be, The Village Collection offers the perfect selections to outfit or enhance what's soon to be the favorite room in your home. Follow Cortney's Collection on Instagram for all the latest updates on the collection.
Sources
Haute Living — In Conversation With the Novogratz
Hope Designs —
Why Colour Repetition is Important When Staging Your Home to Sell