How To Choose an Accent Chair for Your Living Space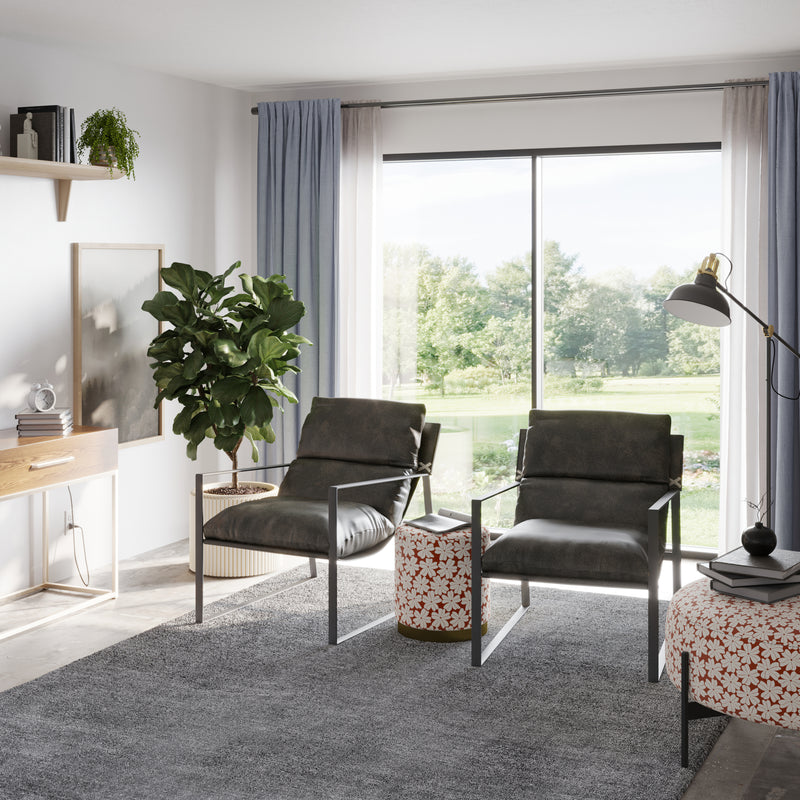 Decorating with modern accent chairs is one of the most impactful ways to give any living space a visual boost. However, it can be challenging to achieve your ideal look unless you put some real thought into choosing a suitable one. This type of chair is a focal piece, after all, so you want it to make a great statement within the room, complementing everything else in the space. Here's how to get it right — and be happy with what it says about your style sensibilities. 
Size Matters
It's okay to break the rules in interior design, except the rules of scale. A mistake many homeowners make when choosing a new chair for, say, the living room is to go straight to the color or visual vibrancy factor and overlook the chair's size or scale in relation to not just the room's available space but the existing seating, like a sofa.
Measure your seating first, and then try to find an accent chair whose measurements are within a few inches of those seat and back heights. If the room already has low-profile seating, a low-profile accent chair will blend in nicely. It's already going to grab attention, being different in color and maybe fabric, so if it's also noticeably larger or smaller in scale, it will be disproportionately obvious — like a workhorse in a herd of miniature ponies or vice versa, though much less cute.
Choosing a Modern Chair With Colorful Flair
Robert and I and our seven children live a colorful life in so many ways, so it's only natural that schemes of all sorts spice up our homes' designs. Stay true to your family's love or restraint when it comes to decorating with an accent chair's color and visual movement. You know, a great design is the one that makes you happiest, so it's important to stick with hues you like best and repeat patterns you prefer within the room. 
If you're after a chair with plenty of color, let it lead the room's design. Pull hues from it for the art, rug, wall paint, drapery and so on. For example, a great wingback chair in multi-blue stripes won't be overlooked, especially surrounded by complementary warm browns, yellows or coral tones, and possibly even paired with a solid-blue sofa or sectional. Again, how much or how little you reach out to color combinations is a personal matter. 
Yesteryear's matched sets were often just too bland, too perfect. Today, a great set works without appearing like it's trying too hard. For instance, our Village Astor Modular Sectional is available with a punchy marble-patterned accent chair that can stand alone but still speaks to the color of the rest of the sectional. There's even a round accent ottoman with storage to add to the grouping for even more visual snap and practicality.
Choosing a Modern Chair in a Great Neutral Tone
Accent chairs come in neutral tones too, if that's where you're leaning. In this case, look for something with groovy, modern flowing curves, or a clean, relaxed shape like a pair of Downtown Varick Faux Leather Accent Chairs. Repeating the neutral chair with a second one next to it doubles the impact they provide if space allows. You can always add a touch of color with accent cushions. Without color to give the chair presence and make it the accent point, it should draw attention in other ways, such as shape or fabric. 
How To Choose an Accent Chair Fabric
An accent chair's material is as much about the look as it is about practicality and functionality. To set it apart visually, you might choose one in a fabric, unlike the other seating. In design, varied textures keep a room fascinating and welcoming. So if you have a smooth leather couch, you might go with an accent chair in a durable, high-performance fabric of some other kind, like the Uptown Sutton Place Accent Chair.
If your couch is upholstered in cotton, polyester or velvet, opt for visual separation with a leather-look chair or modern sleek power recliner (or two) as the accent piece. If you have a busy household like we do, go with easy-care material, as found throughout our collections, that you can wipe clean, rather than froufrou fabric that needs special attention. 
Finding Accent Chairs on a Family Budget
Style and practicality don't have to come at the cost of your sanity, or at a high price point, which is why we created our collection with family and budget in mind. If you enjoy our collection and blog, I hope you'll join us on Instagram to see what's in store next. 
Sources
The Spruce — How to Use Scale and Proportion in Interior Design
The Novogratz —
Novogratz